The first chapter in a heavyweight novella that could electrify a long-suffering division happens this weekend when Deontay Wilder puts his WBC title on the line against Tyson Fury at the Staples Center in downtown Los Angeles.
It will be a hell of a scrap, not least because it could play out any number of different ways. And oddly enough – as much as it is possible for a matchup between unbeatens with 67 wins between them – it feels like a make-or-break fight for both.
Wilder is the warm favourite since he has been consistently active, with nearly all of his seven title defences taking place while Fury was out of the sport for two and a half years and had ballooned up to 25st. The American's heat-seeking right hand is the most devastating weapon in the sport and seems more than adequate to end proceedings should it find purchase against an opponent who was dropped in the second round by shopworn, blown-up cruiserweight Steve Cunningham only six fights ago.
"[This is] definitely the most important but definitely not the most difficult fight. I have fought way tougher guys than him," Wilder said after Friday's weigh-in here, where the American came in more than three stones lighter than his challenger – 15st 2lb compared to 18st 4lb. "I get to release everything that's inside of me. I can't wait. I'm going to knock him out."
Yet the truth remains Wilder has never been in with anyone of Fury's class. The only recent names on his ledger even in the ballpark – the crafty but limited Artur Szpilka and the widely avoided Luis Ortiz – were both well ahead on my scorecards until Wilder closed the show with destructive outbursts of power. If the Gypsy King is even a fraction of the awkward operator who played the spoiler role to perfection against Wladimir Klitschko in quite arguably the most boring heavyweight title fight in history, then Wilder could find himself in a race against time to solve the puzzle.
Of course, Fury is taking on the challenge too soon, having fought only a pair of tune-ups against a pair of unknowns to shake off the rust, but anything that goes against the sport's all too common practice of making the big fights on the wrong end of their sell-by dates is happy accident.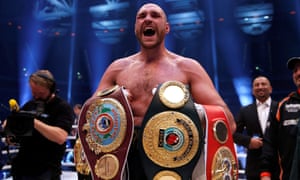 Fury said: "The fire in me has been lit again. Nothing in life was given to me. I've worked for everything I earned. I am the people's champion and I am the man who gives the people hope. I'm not just fighting for myself. I'm fighting for the millions of people around the world who look to me for inspiration."
These days there are three fighters with legitimate claim to the title of world's best heavyweight.
The first is Anthony Joshua, the charismatic knockout machine from London who is undefeated in 22 paying fights with 21 wins inside the distance. Handsome. Humble. Twenty-nine years old. And wildly popular, packing football stadiums twice a year for fights that have become crossover attractions.
The second is Wilder, the 33-year-old with the Adonis build from west Alabama who has won all 40 of his bouts, all but one by stoppage and frequently in spectacular fashion. For years he was brought along with extreme care, walking through a parade of nobodies for more than seven years until he captured the vacant WBC title by stepping up to fight a fringe top-10 boxer named Bermane Stiverne. That was in January 2015, which means Wilder has the held some version of the title for about 15 months longer than Joshua.
The third is Fury, the unbeaten 30-year-old who three years ago ended Klitschko's decade-long title reign with a dreadfully dull but effective display in Düsseldorf. A drugs ban and very public bout with mental health issues sidelined him for two and a half years and he has long since relinquished or been stripped of his titles, but one can argue Fury's claim to the throne is purest of the three as the lineal champion – the man who beat the man who beat the man – the successor of a pedigree traceable all the way back to John L Sullivan (but for the retirements of Lewis, Rocky Marciano and Gene Tunney).
In a perfect world Joshua, Wilder and Fury would spend the next couple of years fighting each other in a round robin. Several times, even. They are each 6ft 6in or taller. They are each undeniably talented. And they are each just flawed enough in their own specific ways to all but guarantee crowd-pleasing fights. There would be knockdowns. There would be excitement. And most importantly there would be the singular champion the sport desperately needs waiting at the end.
Most of all, fans can take heart that it is happening at all, since after the fight the long and crooked road to heavyweight clarity will appear that much shorter.